My First WordCamp in Fayetteville Arkansas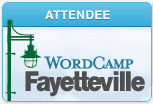 This weekend I drove down to my first WordCamp in Fayetteville Arkansas from Kansas. I was not sure what to expected, but I found out very quickly these organizer were on the top of their game.
Registration in the Dark
Registration at 8am with no lights or electricity was probably not something a WordCamp's organizer wanted to happen, but they had a contiguity plan in order before the sessions started. Wow, I did not see anyone upset at all. As it would happen the Plan B was not needed, as the electricity came back on and they were able to hold the sessions in the original locations. It was the WordCamp Gods playing their own practical joke on the organizer. They all took it in stride and WordCamp continued as if nothing had happened.
WordCamp Session Decisions
WCFay had 4 tracks (WP101, Users, Designer, and Developers) of sessions. There where many times I wish I had a clone to go sit in on another session that I missed. But, I was able to put away my do it yourself cloning kit because, I saw them taping the sessions. This was great because if you want to be at both the designer and developer sessions at 10:25 you could pick one and watch the other one later. These are to be posted later on youtube. Also the slides for the session will be on slideshare.net, you just got to love technology.
Hitting the Iceberg at the end of the Day
At the end of the day I and a few of my new WP friends were in information overload. This was a great thing, because I learn so many new things I did not know. Now I can review my session notes and the provided links, and they will be good resources for the coming year of WordPress work. There was an after party at the Iceberg. This is a well hidden location, that I was so happy that a local gave me directions, or I would never have found it. The Food, Drinks, and Networking was a great way to end the day.
Looking forward to my next WordCamp
I was very happy with my first WordCamp, I look forward to attending more WordCamps, and I hope I will be able to help with the Future WordCamps. I want to Thank WCFay for a the hard work that went into having great sessions full of information, amazing presenters, and providing networking opportunities.