Local business Sport Cave Bar and Grill
Local business Sport Cave Bar and Grill is a wonderful place that my husband and I happened upon and we have been back multiple times. I wanted to find out more about the owners and how the Sports Cave Bar and Grill came to Overland Park.
About the Sport Cave Bar and Grill
Rhonda and Donnie talked to me about their Bar and Grill this week and I have some fun facts and information to share with you about them, and the Sports Cave Bar and Grill.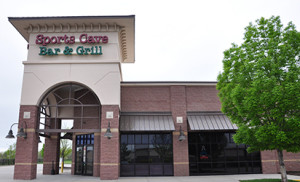 First of all, Sport Cave is locally run and owned by Rhonda and Donnie Hornberger and it was opened on June 16th 2011. They started the Bar and Grill, because they love to entertain, enjoy cold beer, and good food. Rhonda came up with the name Sports Cave as she was relaxing by her pool. So their next step was finding an actual location, and we are luck they picked one close to us.
What is has to offer
They have the best place to entertain with a large L shaped space, which can accommodate multiple large groups in comfort. They have it all; 36 TV's, two large screen TVs, two Pool tables, a shuffleboard game, an arcade room for the kids and a few games for the adults by the pool tables. They have a party room that has been used for fundraisers and corporate events. This place is big so you have plenty of elbow room. The Sports Cave also has hosted live entertainment like the heatherstones, so much fun.

The Food
I have talked about the Sports Cave and what you can do there, but I need to focus on the Food. Rhonda goes to great lengths to come up with a menu that will please her customers tastebuds at a very reasonable price. Most of the food is made fresh in house, with only a few items that are brought in frozen. I am sure you will be able to tell how much work has gone into creating the recipes with each tasty bit. Customers of the Sports Cave rave about the Nachos, Tenderloins, Wings and Chicken Philly sandwiches. They are currently adding new items to the Sport Cave menu; look for the Panini sandwiches and flatbread pizzas to be add in the next few weeks. Here is a little side note: Rhonda and Donnie have homemade Salsa and BBQ sauce that gets canned for local distribution.
Drinks
The Sport Cave Bar and Grill is a great a place to hang out during the afternoon or if you wanting a Saturday night out with about 200 or more of your closest friends and neighbors. Donnie and Rhonda have 82 different types of Beer, with 20 on tap, and they are great about changing out the on tap beers for seasonal specials. They have a full line of cocktails and have some special drink designs made by their own bartenders. The Blueberry Lemonade was a favorite drink of mine.
Now for people that are at the soccer complex, or Blue Valley Recreation Complex playing(Soccer, Baseball or softball) the Sports Cave is close enough and has plenty of room for a large team to comfortable get lunch or dinner, before or after games. All in all the Sports Cave Bar and Grill is a very comfortable place to go with the family, friends or just on a date.
Testimonals
They have customers that frequent the establishment 3-4 times a week like Lyle G. Who says
"They have great food, like the chicken fingers (also homemade) and it is a wonderful atmosphere for families and sports fans. The Sports Cave has a ton of room with an amazing number of TVs. I have seen Garmin bring in a group of over a 100 people, and the Sports Cave still have room for locals to come in and enjoy an evening."
Rhonda and Donnie are very friendly owners, and they maintain a family friendly establishment. If you are near 135th and Nieman, you are just a block east of the Sports Cave. I highly recommend you checking out the great freshly made food, Fun, Friendly, and Welcoming atmosphere of the Sports Cave. Hope to see you there soon!
Sports Cave Address, Contact Information and Social Links
Rhonda and Donnie Hornberger Owners
11440 135th St
Overland Park, Kansas 66221
www.sportscavebarandgrill.com
Facebook: sportscavebarandgrill
Twitter: @sportscaveBG
The Sports Cave is open at 11am-midnight Sunday-Thursday
and open til 1 am on Friday and Saturday,
with Daily Food Specials, and Daily Happy Hour from 3-6
You can contact Rhonda at Rhonda.Hornberger@yahoo.com