Quivira Crossing Veterinary Clinic+
Quivira Crossing Veterinary Clinic+ is the local business I am highlighting this month, and their motto is "Everything we do begins with care!" Last month's Business Bryant Liquors owner Nikol told me to follow up with Dr. Cindy here at Quivira Crossing Veterinary Clinic+. I talked to Dr. Cindy and found out what everything we do begins with care really means.
About the Clinic
As always I reviewed their website and the internet reviews of the Veterinary Clinic, and they have 5 stars out of 5 with the yellow pages and yelp. This is very impressive. Dr. Cindy Taylor, DVM is the Veterinary owner of this wonderful clinic. Dr. Cindy is a locate resident and saw a need for a Veterinary Clinic here in Overland Park. So, she opened the doors here in May of 2011 with her staff consisting of: 3 vet assistances, 2 kennel staff, and 1 groomer. I was able to meet the vet assistances and the groomer and they all are very warm and welcoming. Oh, but I did not mention Mike the cat, (beautiful Siamese cat) and Gus the chinchilla both may greet you as you enter the clinic. The clinic has two exam rooms, kennels, a grooming room, a laboratory, and a well equipped surgery suite. This is a full functional clinic from routine pet medicine to emergency care they have it all.
Treatment Questions
Dr. Cindy has worked with a variety of mammals from the smallest patient a 50 gram mouse that had gotten into rat poisoning to the largest patient was a 155lb Great Dane who was in for routine treatment. Both patients went home to happy owners.
I asked Dr. Cindy, "How she was able to assess animals to determine if the problem was of a critical nature or normal?" The animal doesn't come in and say they have a pain in the side, so Dr. Cindy said she needs to follow what are the ABC's of evaluation.
A for Airway (breathing or wheezing)
B for Breathing and Bleeding or Blood
C for Cardiovascular, gum color and how long the problem has been present
She did say most diseases or problems present a pattern and those are the best way to diagnose an animal patient. She stated that animals don't lie they show a lot with body language that is indicative of a problem. Dr. Cindy said that animals tend deal with pain as part of their instincts, and many times they don't show pain, because in the wild it would be dangerous for them. Dr. Cindy needs to determine if the animal is in pain and inform the owners when and how to treat their pets. This is where Dr. Cindy's care and compassion come into play again for both the owner and animal patient.
Wellness Plans
Quivira Crossing Veterinary Clinic+ have what they call Wellness Plans to keep your pet health, so that you are just not visiting the Clinic for emergency treatments. The Wellness Plans are setup based on your pet's needs. This can be wonderful for pet owners that know how expensive it can be to just have the annual vaccine booster done. These are great options to spread the expense across the year with monthly payments. You can review the range of options the Clinic has online.
Clinic Gives Back
Not only does the staff at the Quivira Crossing Veterinary Clinic care about animals they care about people too. The clinic gives back to the community with their annual collection of fans that are given to City Union Mission. This fan drive is for people that do not have air conditioning in the heat of the summer, and the fans collected from now until July 19th. The fans are delivered to City Union Mission and then are distributed by city union mission to people in need of breeze. Please drop off Fan to the Quivira Crossing Veterinary Clinic+ to help with this great cause.
How to Find Them
Dr. Cindy and her staff are very caring people and your pet will be in great hands with anyone at Quivira Crossing Veterinary Clinic+. I feel my talk with Dr. Cindy really did find the meaning of their motto "Everything we do begins with care!"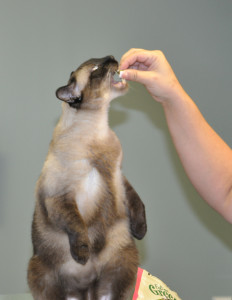 Dr. Cindy Taylor, DVM
11770 W 135th St,
Overland Park, KS 66221
Phone: (913) 647-4141
Business Hours
Mon, Tues, Thurs, Fri 8:00 am 5:30 pm
Wed 8:00 am 8:00 pm
Sat, Sun Closed
Website quiviracrossingvetclinic.com/
Facebook
Twitter
Google +