Fragile What? Fragile X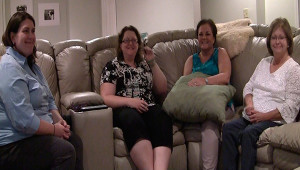 This month I talked with a panel of Mom's from the Kansas Fragile X Links Group. I will be posting some of the video here later, of that evening. It was a very informative evening and I really want to share it with everyone. The ladies in the panel were Angie Grantman, Donna Beauchamp, Brooke Powell Stack, and Lisa Lawrence. I also want to highlight their walk coming up on September 21, and I will give some explanation of what is Fragile X.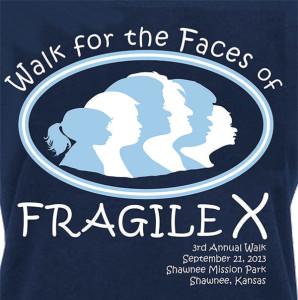 "Walk for the Faces of Fragile X"
The Kansas Fragile X LINKS Group will be holding their 3rd Annual "Walk for the Faces of Fragile X" at Shawnee Mission Park in Lenexa, KS on September 21, 2013. Click here or on the shirt image to register.
Kansas families
Together with the National Fragile X Foundation, our goals are to provide emotional and educational support to Kansas families, to promote public and professional awareness of Fragile X, to advance research towards improved treatments, and ultimately, to find a cure for Fragile X.
Fragile What? Fragile X
Fragile X Syndrome (FXS) is a genetic condition that causes intellectual disability, behavioral and learning challenges. FXS is the only known genetic cause of autism spectrum disorders. One in every 129 women and one in every 350 men carry the genetic mutation that causes Fragile X Syndrome and related conditions.
Carriers of the Fragile X mutation can experience the Parkinson's-like symptoms of Fragile X Associated Tremor/Ataxia Syndrome (FXTAS).
Female carriers may develop reproductive health issues from Fragile X Associated Primary Ovarian Insufficiency (FXPOI).
Unfortunately, Fragile X related syndromes often go undiagnosed or misdiagnosed due to lack of awareness for these conditions.
Each of these women had their own story to tell about Fragile X, and how it has been a big part of their life's and family's. I was in aw of each one of them for the Joy and Knowledge they are able to share about their children with Fragile X. If you have a child with fragile X please contact the Kansas Fragile X LINKS Group, and I am so sure they will be able to help you understand the many symptoms of this Syndrome.

Kansas Fragile X LINKS Group
PO Box 401
Olathe, KS 66051-0401
KansasFX.org
https://www.facebook.com/KansasFX